Cancer Campaigns in November 2021
This November brings a variety of cancer campaigns.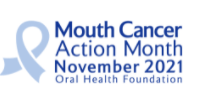 Mouth Cancer Action Month is the UK's biggest charity campaign for mouth cancer awareness.
Taking place throughout November, thousands of amazing people go out into their communities to raise awareness of mouth cancer and share the important message of being mouthaware.
More information can be found here.

This November, it's time to cut the clichés. It's time to stop the clumsiness. It's time to find a better way to talk about lung cancer. The Roy Castle Lung Cancer Foundation have teamed up with comedian, John Ryan, to address awkwardness and taboo surrounding lung cancer.
Find out more about the Follow My Lead Campaign here.

November is Pancreatic Cancer Awareness Month, known to many as 'PCAM'!
It's a chance for the pancreatic cancer community to come together to raise vital funds and awareness, remember loved ones who have sadly died of pancreatic cancer and to acknowledge those living with or beyond the disease.
More information can be found here.