Do it For Yourself Lung Cancer Awareness Campaign Launches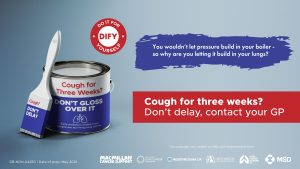 The Peninsula Cancer Alliance have been working with MSD and partners in order to bring a print campaign around Devon, Cornwall and the Isles of Scilly to encourage and educate patients into coming forward and to attend screening appointments for lung cancer.
Lung cancer is one of the most common and serious types of cancer. Around 47,000 people are diagnosed with the condition every year in the UK.
There are usually no signs or symptoms in the early stages of lung cancer, but many people with the condition eventually develop symptoms including:
a persistent cough
coughing up blood
persistent breathlessness
unexplained tiredness and weight loss
an ache or pain when breathing or coughing
We are asking you to please see a GP if you have these symptoms.
As well as posters the campaign also includes a radio advert, pharmacy bags and bus sides.