NHS Partners With Morrisons To Put Vital Cancer Awareness Messaging On Underwear Labels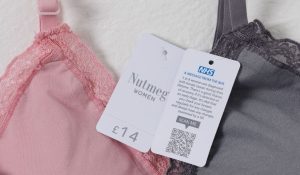 From Monday 21st August, Morrisons shoppers in the South West will find NHS advice on underwear labels urging them to contact their GP practice if they spot potential symptoms of breast or testicular cancer.
The Nutmeg branded underwear featuring NHS advice will be in 240 Morrisons stores, including South West outlets from Gloucester to Penzance. The labels will first appear in men's boxer shorts and followed by crop top bras in the coming months.
The NHS guidance will be displayed on the fabric labels alongside the standard sizing and care information. There will also be a QR code on the packaging and tags linking customers through to more detailed information on breast and testicular cancer on the NHS website.
The partnership with Morrisons is part of a campaign to encourage people to check their bodies for symptoms that could be cancer, then should contact their GP as early as possible. That means they can get the all-clear or, in some cases, a cancer diagnosis sooner to give them the best chance of surviving the disease.
Symptoms of breast cancer can include a lump or change in the look, shape or feel of one or both breasts, while symptoms of testicular cancer can include painless swelling or a lump in one of the testicles or any change in shape or texture of the testicles.
National figures show that 91% of women survive for at least five years if diagnosed at an early stage of breast cancer, where the tumour is small (stage one), whereas this reduces to 39% where the cancer has spread to other parts of the body (stage four).
While nearly all men survive testicular cancer, if the cancer has spread, survival for five years or more can reduce to 65%.
Joy, our breast cancer patient representative for the Peninsula Cancer Alliance, said: "Years ago I had a lump in my left breast I had it checked out and the biopsy showed it was nothing. But then years later when I  felt another lump, in my right breast. I wasn't too worried, but I knew "time is of the essence". So I was really shocked when they told me it was a small but serious cancer but caught early. It is the last thing I wanted to hear, but they are so fast in testing and treating you. Go and get tested the moment you are worried – it makes it so much easier to sort out and recovery is quicker!"
More people than ever before are being seen and treated by the NHS for cancer – in the last year the number of people receiving lifesaving checks for cancer hit nearly three million (2.92m) – more than any other year on record.
Thanks to extensive NHS campaigns and early diagnosis initiatives, a higher proportion of cancers than ever before were diagnosed at an early stage in the year 2022-2023 – 58% of cancers diagnosed at stage one or two compared to 56% before the pandemic.
Vinay Takwale, NHS England's South West Medical Director, said: "Survival for both breast and testicular cancers has improved significantly over the last 50 years and we're seeing more people than ever before diagnosed at an early stage, increasing their chances of recovery. It's great to have a store like Morrisons on board for this important campaign, supporting the call for everyone to be aware of their own bodies. Please look out for lumps and bumps or anything else that is unusual for you and get checked out early – it could save your life."
The NHS is harnessing the very latest technology and initiatives such as community lung health checks and trials of a blood test that can detect up to 50 cancers before symptoms appear, to diagnose cancer earlier and achieve its goal of diagnosing three quarters of all cancers at stage one or two by 2028.
The NHS is also accelerating the use of innovations like teledermatology for diagnosing skin cancer, which is already seeing some areas double the number of patients seen and speeding up diagnosis and treatment for tens of thousands with skin cancer.