Widespread Clinical Support For Reforming NHS Cancer Standards To Speed Up Diagnosis For Patients.
Thousands of people referred for urgent cancer checks every month are set to be diagnosed and treated sooner, as the NHS reforms its cancer standards to reflect what matters most to patients and to align with modern clinical practice.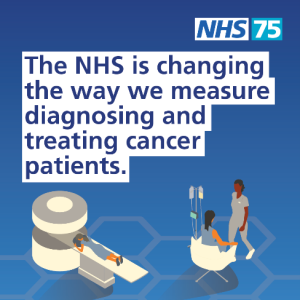 Developed by clinical experts and supported by leading cancer charities, there will be three cancer standards, which combine all of the previous standards and cover additional patients.
The NHS currently has ten performance standards for cancer, including the Faster Diagnosis Standard introduced in April 2021, but following rigorous consultation and engagement, the government has agreed these targets will be consolidated into three key standards:
the 28-Day Faster Diagnosis Standard (FDS) which means patients with suspected cancer who are referred for urgent cancer checks from a GP, screening programme or other route should be diagnosed or have cancer ruled out within 28 days.
the 62-day referral to treatment standard which means patients who have been referred for suspected cancer from any source and go on to receive a diagnosis should start treatment within 62 days of their referral.
the 31-day decision to treatment standard which means patients who have a cancer diagnosis, and who have had a decision made on their first or subsequent treatment, should then start that treatment within 31 days.
In line with the recommendation of the 2015 Independent Cancer Taskforce, government has approved that the outdated two week wait target will be replaced with the Faster Diagnosis Standard from October.
GPs will still refer people with suspected cancer in the same way, but the focus will rightly be on getting people diagnosed or cancer ruled out within 28 days, rather than simply getting a first appointment.
In the last year, over two million patients with suspected cancer were diagnosed or received the all-clear within 28 days.
The faster diagnosis standard means NHS services can embrace greater use of new innovations and technology for diagnosing and treating patients.
It supports newer ways of testing where patients with suspected cancer do not necessarily need an appointment first, such as straight to test pathways, remote consultations, and advances in technology like using artificial intelligence and teledermatology to help diagnose skin cancers from photographs in a matter of seconds.
The three agreed standards, which will come into effect from October, have been identified as the best measures to ensure patients are being seen and treated as quickly as possible, and to provide a clear focus for NHS trusts delivering vital care.
Professor Peter Johnson, NHS National Clinical Director for Cancer, said: "It is a testament to the hard work of NHS staff that we are seeing and treating record numbers of patients for cancer, and diagnosing people at an earlier stage than ever before, giving them the best chance of survival. On top of delivering record checks and treatments, staff have also made significant progress bringing down the longest waits, but we want to ensure even more patients are being diagnosed and treated as early as possible following referral. These modified standards will provide a clear focus for how to achieve this, and the faster diagnosis standard already being used across the country will mean more patients will benefit from a speedier diagnosis or the all clear within a month, helping to relieve anxieties or enabling treatment to start sooner. Catching cancers early saves live and these three standards have been agreed by leading cancer experts, with the support of cancer charities and clinicians, as the best way for the NHS to ensure patients are diagnosed and able to start treatment quickly."
John Renninson, Clinical Chair for the Peninsula Cancer Alliance, said: "Clinical services will welcome the rationalisation of these very important markers of care quality for patients with suspected and diagnosed cancers. All patients currently monitored will still have their progress tracked as before. They will be monitored through the most important points of their journey if they have a cancer. These are the time to be treated when they have a cancer diagnosis and treatment plan and the total time from referral to treatment whatever the route they came to the services. Modification of the rules should  also increase the number of patients being monitored by the services. The new standard of 28 days to be told whether you have cancer or not is much more relevant to patients than the out of date 14 days to get a first appointment which doesn't fit with more up to date ways of managing the process of reaching a diagnosis. These include more one stop clinics where patients are seen and have investigations performed and straight to test pathways where the first contact with the service may be the most important investigation relevant to their symptoms."