This year two trusts within the peninsula have joined onto the Cytosponge pilot project. More information will be released on this as the year develops but for now we have a brief explanation on what the product is and some case studies with further reading.
What is Cytosponge?
Cytosponge is a new innovative test which was developed to identify Barrett's oesophagus – a condition that can increase a person's risk of developing oesophageal (food pipe) cancer.  It's an inexpensive and simple test that can be done in a GP surgery or hospital setting outside of the traditional endoscopy suite. Early trials showed that it was safe and acceptable to patients.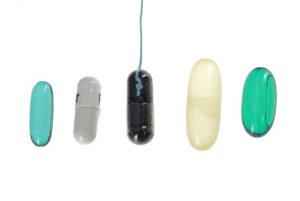 Cytosponge is a soluble capsule that contains a small sponge or a 'sponge on a string'.  The patient swallows the capsule which has a thread attached.  A small sponge is release from the capsule and a trained nurse/clinician pulls on the thread to withdraw the sponge.  As the sponge comes back up the gastrointestinal tract it collects small samples of cells that can then be sent to pathology for analysis.
What does the test involve?
The below is information that is provided to the patient in the form of a leaflet prior to the appointment.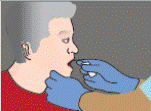 The patient swallows the Cytosponge Capsule and string with some water. The end of the string is attached to a card which the nurse holds.
It will take around 7½ minutes for the capsule to dissolve, releasing the sponge into the stomach.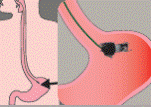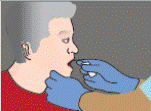 The nurse will pull up the sponge by the string. This will only take 1 or 2 seconds and should not be painful, but you may feel like the inside of your gullet is being brushed.
The sponge will then collects cells as it passes through the gullet.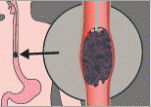 After the test, experts will look at the sample to see if there are any signs of changes to the cells in the oesophagus (gullet).

The results of the test will be given to the patient by telephone or by letter. We expect this to take around 2-3 weeks following the procedure.
If the Cytosponge test shows cells are normal, this indicates that there is no evidence of damage to the oesophagus, treatments will continue, such as acid-suppressants for symptoms.
If the Cytosponge tests identifies any abnormal cells, this indicates that there is some damage to the oesophagus which will require further investigation with an endoscopy.
Further Reading
For some more information and to look at some case studies please find below:
Cancer Research UK Science Blog Case Study - A Sponge On A String To Detect Oesophageal Cancer Earlier
Heartburn Cancer UK News - University of Cambridge project aiming to improve early diagnosis of oesophageal cancer receives a share of £16m funding from UKRI