Our North Devon Breast Care Nurses – Winners of a BJN award!
Huge Congratulations to Karen, Claire, Amy and Abby from the Breast Care Nursing team at North Devon for winning Oncology nurse of the year at the BJN awards. Since Feb 2020 the team have stepped up to provide 2ww triple assessments clinics and the running and co ordination of the symptomatic breast service without direct breast surgeon supervision at North Devon District Hospital.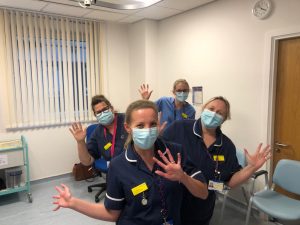 The award recognises an individual or team who have made a demonstrable improvement to the delivery of cancer patient care.
"Winning this award has highlighted the nature of our work and it is lovely that our small breast care department has been recognised nationally for doing something innovative and positive that puts the patient's best interests at the heart of our service".
The breast service at North Devon receives approximately 1600 symptomatic two week wait referrals a year, and without this service patients would have had to travel long distances for their outpatient appointments at a different centre.
To watch the awards please follow this link. The category comes up at the 53 minute mark.