Faecal immunochemical test (FIT) For Low Risk Patients
Bespoke Patient Packs Facilitating Remote Patient Sampling
The beginning of the  COVID-19 pandemic brought endoscopy services to a stand still, and  diagnosis and treatment pathways for suspected colorectal cancer (CRC) were presented with a host of new challenges.
It has become vital to ensure individuals on waiting lists are triaged appropriately, and those in the most urgent need of assessment, were prioritised.
Faecal Immunochemical Testing (FIT) posed a valuable resource for this new pathway and had been widely used to assist with triaging patients within secondary care. This, however is only part of the problem in terms of diagnosing CRC quickly.
Fit tests are a non-invasive and simple diagnostic test for colorectal cancer. This video shows how to perform the test in the comfort of your own home.
FIT Patient Packs
Patient packs have been in use for some time for the referral of patients from Primary Care. Patient Packs are bespoke sampling kits that the GP or hospital can send directly to patients. They enable the sample for the FIT test to be taken at home, are can be returned via post to the laboratory, or to the GP office. The packs reduce the amount of face to face contact; helping to keep people safe during the pandemic.
The bespoke instruction leaflets direct the patient through their pathway: how to take the test, advice on collecting their sample, and instructions on how to return the completed kit.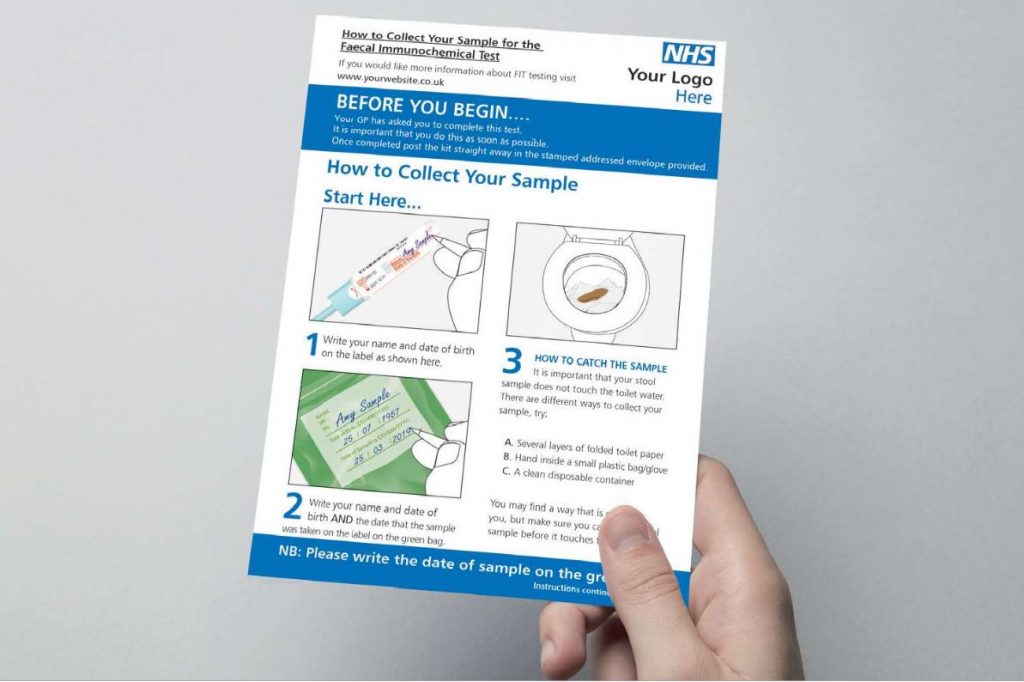 By rolling out the patient packs into both primary and secondary care, FIT has been instrumental in reducing endoscopy waiting lists by increasing patient access.
The packs can be customised for secondary care, primary care, Vague Symptoms Pathways (VSPs), or Rapid Diagnostics Centres (RDCs)- making sure the pack guides the patient accurately on their pathway and outlining what they expect in terms of follow-up.
Communication with patients is key for the continued compliance: the packs can be used to help guide patients on safety netting services, highlight what other diagnostic services are currently offered, or what to do if they remain concerned following the test result.
A well structured, patient-centric approach is key to maximising the benefits of FIT in these difficult times.